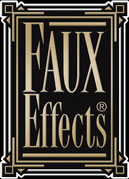 FAUX EFFECTS INTERNATIONAL INC.
2700 Industrial Avenue 2
Fort Pierce, FL 34946
800-270-8871
---
---

FE Dallas Inc.
4550 Sunbelt Dr
Addison, TX 75001
972-733-0028
---



Advanced LusterStone™ Class

Get ready to give your clients even more options.

Don't want your faux finishing

to be "ordinary?"

Attend the Advanced LusterStone class

surpass the ordinary and

Be Extraordinary!

LusterStone™ is the most requested faux finish on the market today. LusterStone™ has always been a stunning finish on its own. However, this workshop will provide an emphasis on techniques and supplementary materials that enhance LusterStone™ even further, elevating it to new levels of brilliance. Students will learn to manipulate LusterStone™ in a variety of ways without relying on the traditional trowel application method.

Asian LusterStone™

Embedded LusterStone™

Grasscloth LusterStone™

Leather & Lace
LusterStone™

Leather & Lace
LusterStone™
Close Up

Wet LusterStone™

Chinoiserie Bamboo

Multiple variations and creative finishing possibilities with LusterStone™ will be taught. In addtion, Stenciling and gilding, waxing techniques, mixtures with O'Villa Plaster™ & Venetian Gem Plaster™, distressed finishes, and fabulous lace patterns will also be shown.

Call 1-800-270-8871 to register

50% deposit required at time of registration.
Balance due 2 weeks before class start date.
Workshop hours 9:00 to approximately 5:00

Complimentary continental breakfast and snacks provided
All supplies furnished
(Airfare and accommodations not included)

* Faux Effects International, Inc. does not make any warranty or representation that the finishes, products or results advertised will meet your individual requirements or expectations. Every effort is made to conduct all Faux Effects International Inc. Workshops as advertised; however, the products and finishes taught may vary.