BYOC (Bring Your Own Canvas) Class
For All Skill Levels
Saturday, December 15th 9am-5pm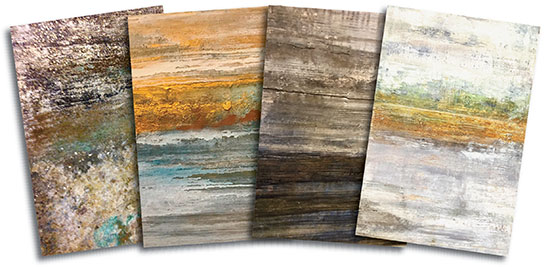 FE Dallas Inc.
4550 Sunbelt Drive Addison, TX. 75001
(972)-733-0028
Join us at FE Dallas for a mixed media canvas class using Faux Effects® products, including our new X-Factor™! Create stunning works of art even if you don't consider yourself a fine artist! Composition and quick texture backgrounds will be covered, which provides a framework for your design. A variety of shaping tools,mica powders, mica flakes and other items will be used to embellish your work.
Please bring the following to class:
1 – 24" x 36" Stretched Canvas
1 – 3-pack of 4" x 12" Level One Deco Canvas (rectangular deep canvases)
You decide the quality of the larger canvas. Some prefer archival quality with deep edges, "ready to sell" after class; others prefer an inexpensive canvas suitable for experimentation. Canvases can be purchased from Michael's (generous with canvas sales, coupons and offer three grades of quality) or other art stores such as JoAnne's and Hobby Lobby.
Faux Effects® products will be used to prep canvases.
Canvases produced also can be used as part of your portfolio as feature wall finishes.
Class cost is $200, which covers instruction and finishing materials. Payment is due at registration.