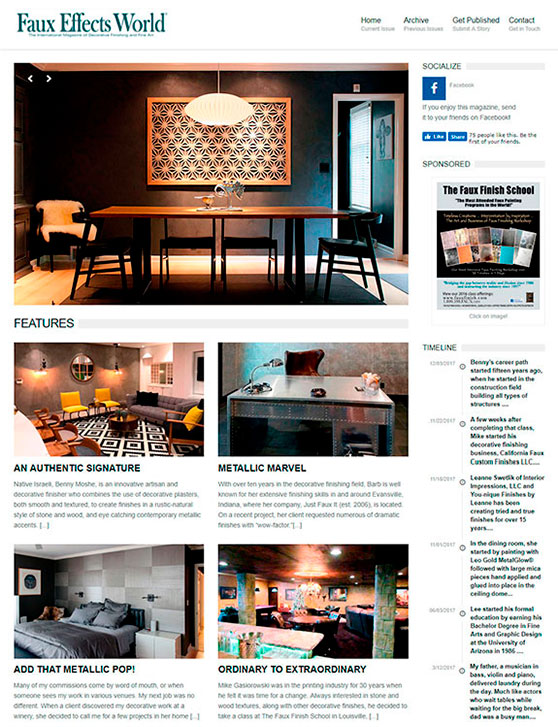 Faux Effects World® New Issue
Check out the latest Faux Effects World online issue!
This metallic filled issue features many decorative finishes and design ideas to "deck the halls" in the coming New Year...Enjoy!
Wishing all a wonderful holiday season filled with great times with family and friends. A New Year with good health & prosperity and Peace on Earth!
And, as always, it's all about YOU! So please submit your stories and projects...both big and small!
Take A Look!
Raymond Sandor speaks to Paint & Decorating Retailer Magazine®
Since its founding, Faux Effects has focused on maintaining three core values to find success in the faux painting and decorative finishes industry: hard work, selling quality products and providing guidance on the correct way to use its products to achieve a desired result. As an independent paint and decorating retailer. you likely prioritize similar values in your business.
Faux Effects' extensive line of products includes decorative paints, plasters, glazing mediums, colorants, wood and stain finishes, marble and stone finishes, textures. oxidized finishes and more. All of the company's products arc environmentally safe and are water-based.
But Faux Effects doesn't just manufacture decorative finishes. As part of its commitment lo quality and supporting end users, company president Raymond Sandor himself is an active participant in product development.
Read The Article
*Article by Tammy Adamson-McMullen for PDR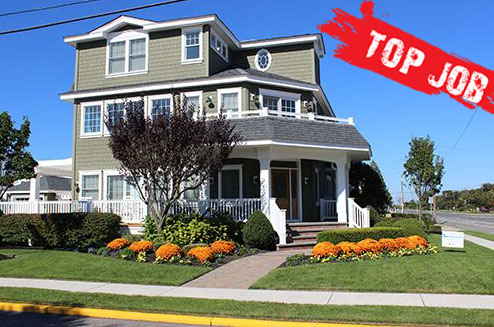 Win a TOP JOB... and win new business all year long!
As many of you are aware, Faux Effects® has had a long time relationship with American Painting Contractor magazine and their events. We are pleased once again to sponsor APC's annual "Top Job" contest. As the decorative product sponsor, Faux Effects International, Inc. has a special bonus to offer our customers…free entry fee! (a $89 value)
TOP JOB is now a local award. We're looking for the best contractors in every town. Imagine, if you win TOP JOB-Houston, TOP JOB-Columbus or TOP JOB-Logan (that's in Utah), you'll have an incredible tool for promoting your business…in your town! APC Editors choose the entries that meet our criteria for craftsmanship, professionalism, safety and customer service. Winners receive an extensive marketing package from APC Magazine proclaiming you as a TOP JOB Winner. Use your TOP JOB Award to promote your business to customers!
In addition, Faux Effects International, Inc. will also spotlight FE entered projects that are also submitted to FEW in an upcoming issue of Faux Effects World magazine. FE product users will have great exposure even if they do not win a "Top Job" spot.
Take advantage of this unique opportunity to promote your business now!
Submit Your Entry for FREE Here!
Faux Effects World® Story Submission Here!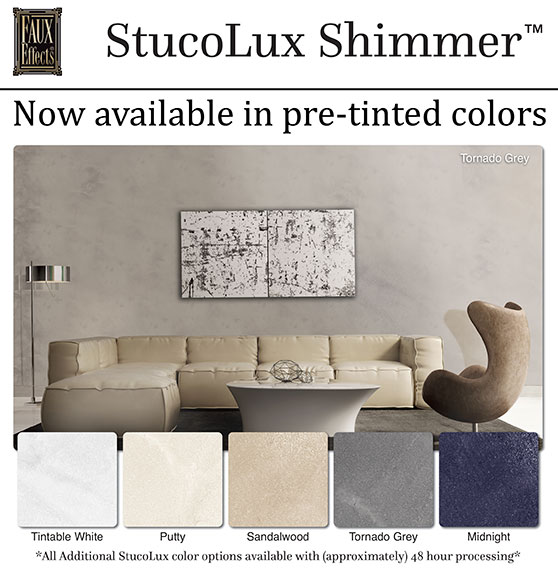 Now Available ...
"New" StucoLux Shimmer™ in pre-tinted Colors!
Additional colors of StucoLux Shimmer are now readily available...
Tintable White,Tornado Grey, Midnight, Putty and Sandalwood in stock!
*All additional StucoLux colors are available with (approximately)48 hours for processing.
StucoLux Shimmer™ is a decorative, easy polishing mineral-based Venetian plaster. A creamy, smooth material, it glides on easily across most substrates. StucoLux Shimmer™ has very good durability and provides beautiful undulations of color depth in the final finish.
Loading the player...
Click the video above!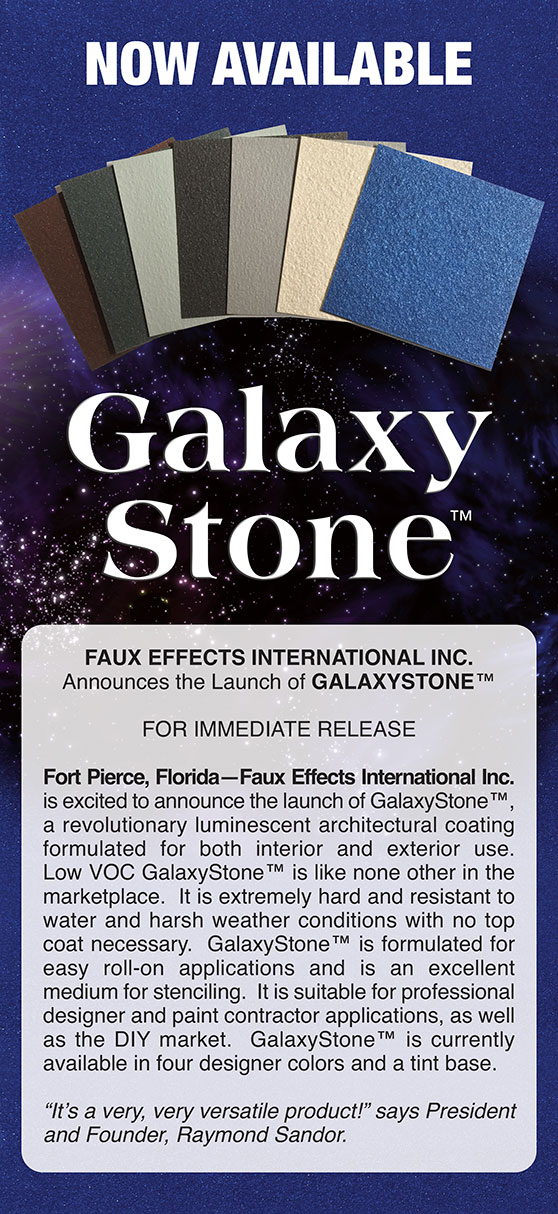 Faux Effects Introduces Galaxy Stone™
Galaxy Stone™ is a revolutionary luminescent architectural coating formulated for both interior and exterior use. Low VOC Galaxy Stone™ is like none other in the marketplace. It is extremely hard and resistant to water and harsh weather conditions with no top coat necessary. It provides a truly handsome look to walls, ceilings, concrete structures, concrete columns and accessories. Galaxy Stone™ is formulated for easy roll-on applications and is an excellent medium for stenciling. It is suitable for professional designer and paint contractor applications, as well as the DIY user.
Galaxy Stone™ may be applied over drywall primer coats, prime coated cement, ordinary wall paint, SetCoat® and Texture Coat™. The easiest and most efficient applications of Galaxy Stone™ should be applied over a similar color base coat.
Learn More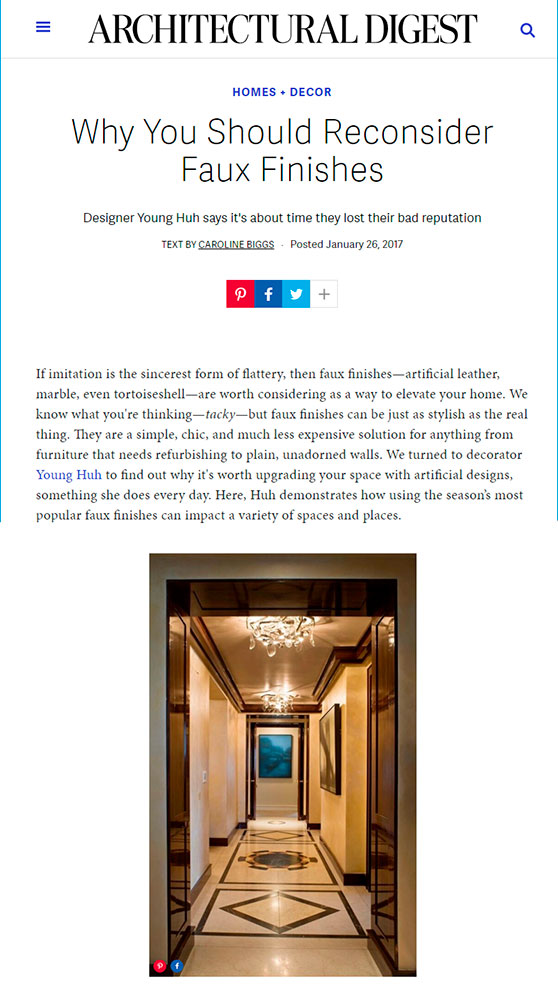 Great News for Decorative Finishers
Designer Young Huh says it's about time they lost their bad reputation
"If imitation is the sincerest form of flattery, then faux finishes—artificial leather, marble, even tortoiseshell—are worth considering as a way to elevate your home. We know what you're thinking—tacky—but faux finishes can be just as stylish as the real thing. They are a simple, chic, and much less expensive solution for anything from furniture that needs refurbishing to plain, unadorned walls. We turned to decorator Young Huh to find out why it's worth upgrading your space with artificial designs, something she does every day. Here, Huh demonstrates how using the season's most popular faux finishes can impact a variety of spaces and places..."(Architectural Digest 1/26/2017)
Read the Entire Article Here